Posted by Fiona on 12 Jul 2007 at 10:07 pm | Tagged as: Book Review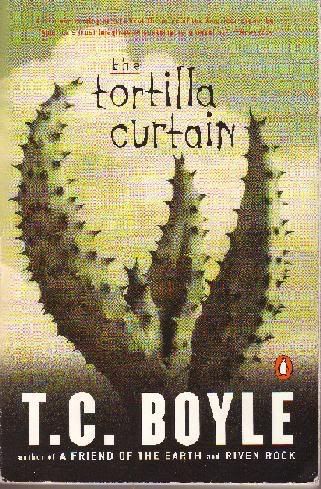 The Tortilla Curtain by T.C Boyle is the story of two couples in Topanga Canyon, Candido and America, a pair of Mexican illegal immigrants, and Delaney and Kyra, a pair of upper middle class white democrats, the inextricable link between their lives, and their sharply contrasting interpretations of and quests for the American dream.
    Boyle takes neither side in his very open political commentary on illegal immigration, but presents them both with more than enough insight and heart to demonstrate how very far from black and white the subject is. The four main characters are all likable and flawed, and as alike and as different as it is possible to be.
    With the same high stakes in their minds and the minds of the readers, Kyra, a workaholic real-estate agent, contemplates what makes the perfect home while America dreams of a bed and running water, Delaney and Kyra struggle with their dispassion, disconnection, and existential crises while Candido and America battle the elements, the odds, and the old fashioned nature of their own relationship, all in the same place at the same time but in two worlds.
    Far from being only political for the sake of political, it is also an intricate character-driven piece and a good read even without its strong relevance.